What Is A
Board-Certified Endodontist?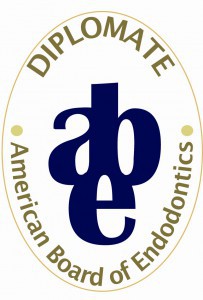 An endodontist is a dental specialist that has completed two or more years of advanced post-doctoral residency training in the specialty of endodontics. Endodontists perform routine as well as difficult and complex procedures including retreatments and root surgeries. To achieve Diplomate status, an endodontist has shown great inner motivation and exceptional commitment to continuing professional growth. A Board-Certified endodontist understands the importance of:
Achieving the highest level of knowledge and skill possible;
Continually pursuing new knowledge and experience;
Fully understanding and applying new research and advances to the practice of endodontics; and
The highest possible quality of care for the patient.
Board Certification is a voluntary process and requires a review of the applicant's education and successful completion of a three-part examination process:
Written Examination: A one-day exam that tests a broad range of knowledge in anatomy, biochemistry, pathology, immunology, microbiology, pharmacology, radiology, statistics, clinical endodontics and related disciplines
Case History Examination: Presentation of a diverse range of complex cases from the applicant's own practice that demonstrate exceptional knowledge, skills and expertise in the full scope of the field of endodontics
Oral Examination: The candidate is required to demonstrate a high level of skill in endodontic diagnosis, evaluation, analysis, creativity, decision-making and problem solving during an interview where a team of experts questions an endodontist about a variety of diagnosis and treatment situations
Upon successful completion of all three examinations an endodontist is certified as a "Diplomate of the American Board of Endodontics". Certification as a Diplomate signifies a unique achievement. Dr. Collins is a Board-Certified Diplomate member of the American Board of Endodontics. Dr. Collins is currently one of two board-certified endodontists in Austin, Texas.
Proudly Serving the Austin area since 2008
Jake Collins, D.D.S., M.S.                 
7300 Ranch Road 2222
Bldg. V, Ste 212
Austin, TX 78730